Mathias Rosenthal - Fotolia
News
Stay informed about the latest enterprise technology news and product updates.
Cloud computing projects need clear goals to succeed
In this podcast, an expert explores the complexities related to cloud computing projects, including data integration risks and Agile techniques.
When it comes to upgrading an existing information infrastructure and implementing flexible cloud strategies, the goals are easy to state, yet a challenge to quantify and achieve, according to Pamela Wise-Martinez, chief cloud and enterprise data architect at the Pension Benefit Guaranty Corp. (PBGC).

Download this free guide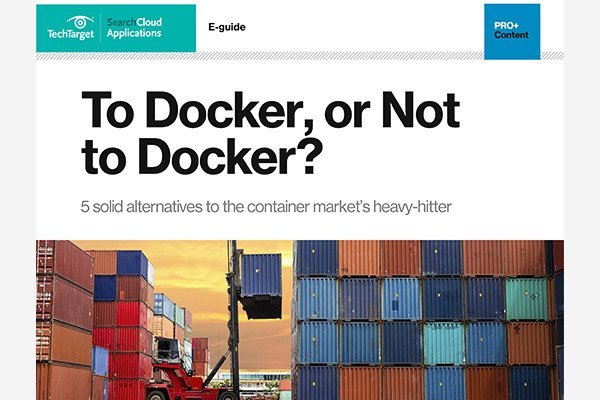 Instant Download: 5 Solid Alternatives to Docker
In this guide, 20-year software development expert Mark Betz outlines 5 alternatives to Docker, complete with hands-on advice.
Comprehensive plans and a roadmap for technology transitions are essential, and should be shared with business partners, Wise-Martinez said in this podcast. "As we go through doing our normal course of work within IT, interacting with businesses around PBGC, they have a clear understanding of that this is where we are going and what we are doing."
Identifying complexity and data integration risk is a foundational aspect of cloud computing projects, yet, according to Wise-Martinez, it's the ensuing steps that create profound challenges -- both technical and organizational. It's always about the governance of data, but that's a function of "getting the right people in the room," so everyone has an unambiguous understanding of the tasks that lay ahead, she said.
"Data integration and data strategy, whether you're talking about on-premises or off-premises hybrid clouds, are at the nexus of what's burgeoning in terms of risk," she added. "That can't be overlooked or stated enough."
Though Wise-Martinez works exclusively in the federal sector, she recognizes that when it comes to IT and cloud computing projects, political and turf issues are pervasive. One thing that PBGC -- a U.S. government agency that protects the pensions of millions of Americans -- does well is bringing the IT and business sides together. "They are hip to hip, identifying problems, solving problems, focusing on what is best for the agency."
Data integration and data strategy, whether you're talking about on-premises or off-premises hybrid clouds, are at the nexus of what's burgeoning in terms of risk.

Pamela Wise-Martinezchief cloud and enterprise data architect, Pension Benefit Guaranty Corp.
Admirably, IT at PBGC doesn't flash its ego, she said. "They come to the table with more of a service-minded approach." Thus, the political fray is dissipated. "When you come to the table bringing a dish with a smile, it's a lot different than coming empty-handed and asking what's for dinner," she said.
When it comes to DevOps versus traditional data center deployment, reconciling the two can spawn challenges. PBCG has begun this reconciliation by adopting Agile techniques, Wise-Martinez said. Her approach when considering legacy applications and traditional IT is to understand when Agile is appropriate and when a traditional iterative approach does best.
In the remainder of this podcast, Wise-Martinez talked about a chart that considers complexity, risk and business criticality, and uses these factors to prescribe which cloud deployment models are the most appropriate. She also suggested that strict security and encryption rules, such as FIPS 140-2, actually simplify implementation of security measures, thanks in large part to their high level of detail and lack of ambiguity.
Dig Deeper on Cloud data integration and application integration