IBM Cloud Private pulls from Big Blue's roots
IBM sticks close to its roots with IBM Cloud Private, which taps Big Blue's enterprise and middleware strengths to move customers from the data center to private cloud.
Despite continually working to reinvent itself, IBM never strays far from its roots, as evidenced by its move to bring cloud-native technology to the enterprise data center to accelerate digital transformation efforts.

Download this free guide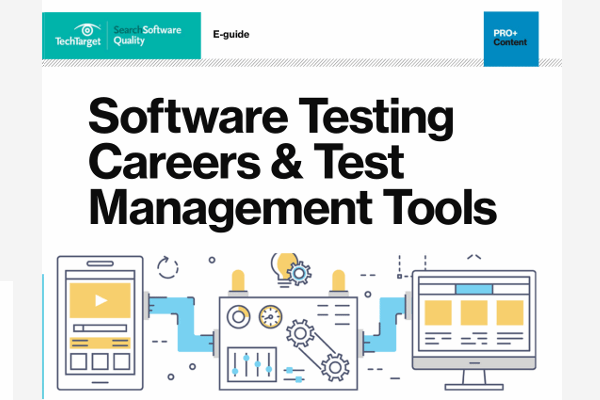 Guide: Software Testing Careers & Test Management Tools
The role of the software tester has undergone significant upheaval and change in recent years. To help get you situated in today's landscape, we filled this guide with advice, research, and user reviews of popular test management tools.
Earlier last week, IBM launched IBM Cloud Private, which enables enterprises to bring modern development technologies such as containers, microservices and APIs -- all attributes of public cloud environments -- to private clouds in the data center, where IBM has tenure as a leading technology provider.
Big Blue dominant in the data center
IBM has long held a dominant position in the data center, with its mainframe, database and middleware technology. Now, the company is launching off that base to help its enterprise customers in regulated industries or that have sensitive data -- such as healthcare, government and finance -- gain the benefits of cloud-native computing development tools and processes, portability and integration.
"As part of its private cloud offering, IBM's been enhancing its developer services in the form of an integrated DevOps tool chain via a service catalog featuring a range of runtimes, development frameworks, tools, middleware, OSS and other services," Charlotte Dunlap, an analyst with GlobalData, said. "This plays into IBM's intent to provide developers with the tools, languages and frameworks they're accustomed to using, e.g., extending services to Node.js or Swift developers."
Indeed, the new offering provides developers with access to a variety of management and DevOps tools, including application performance management, Netcool, UrbanCode and Cloud Brokerage. It also includes support for popular tools such as Jenkins, Prometheus, Grafana, and ElasticSearch.
Kubernetes at its core
Yet, it all starts with the Kubernetes container orchestration platform and supports both Docker and Cloud Foundry.
Steve Robinson, general manager of IBM Hybrid Cloud, said that after several entries into the private cloud space with offerings such as Bluemix Local and others, Big Blue "took a clean sheet of paper and took a look at modern development technologies" and decided to base IBM Cloud Private on Kubernetes. "Then, we decided to bring our DevOps stack and middleware stack forward," he said.
IBM introduced container-optimized versions of its core middleware -- IBM WebSphere Liberty, Db2 and MQ messaging middleware -- to complement the new product.
Positioning vs. competition
Meanwhile, some observers view IBM Cloud Private as IBM's answer to competing offerings such as Microsoft Azure Stack, which provides similar on-premises capabilities. However, IBM said that its strength in middleware and its foundation in enterprise systems set it apart.
"This better positions IBM against primary rivals which are Microsoft Azure Stack and VMware/Pivotal, with a cloud strategy that has evolved up the stack from [infrastructure as a service] to [platform as a service] and now to what they call 'enterprise transformation' -- meaning more personalized customer engagement capabilities fulfilled through technologies supporting multi-cloud, cognitive and API, and blockchain," Dunlap said of the new product. "IBM says 71% of its customers today use three or more clouds including public, private and departmental. Private remains their largest customer opportunity with complex requirements and latency issues."
This is a key opportunity for IBM in bridging from leading provider for traditional enterprise applications to leading provider for cloud-modernized and cloud-native applications on its IBM Cloud Private and IBM Public Cloud offerings.

Rhett Dillinghamanalyst, Moor Insights & Strategies
Based on its own data, IBM estimated that customers will spend more than $50 billion annually on private cloud infrastructure beginning in 2017 and growing at 15% to 20% each year through 2020.
Microsoft's one big advantage in the segment is being able to do both public and private cloud almost seamlessly, said Rob Enderle, an industry expert and founder of the Enderle Group.
"Recently, Cisco and Google partnered to provide the same capability, and now IBM is moving at the same opportunity," he said. "IBM, like Cisco, should be particularly strong on the on-premises side of this and their execution with SoftLayer has been very strong of late resulting in what should be a very competitive offering. This should expand the available market for IBM's now hybrid solution significantly."
In a statement, Tyler Best, CTO of car rental giant Hertz, said, "Private cloud is a must for many enterprises, such as ours, working to reduce or eliminate their dependence on internal data centers." He added that a strategy of public, private and hybrid cloud is "essential" for large enterprises transitioning from legacy systems to the cloud.
With such a big opportunity at stake, every cloud vendor is positioning itself to capture as much of the wave of enterprise interest in Kubernetes as possible onto its own platform, said Rhett Dillingham, an analyst at Moor Insights & Strategy. And with IBM Cloud Private, IBM is providing its Kubernetes-based platform for use on private infrastructure with the integrated value of its investment in complementary management and developer tooling.
"As part of this, IBM is offering new containerized versions of its software and development frameworks, because it has a big opportunity to help its existing software customers transition to cloud by modernizing their management of IBM WebSphere Liberty-, Db2- and MQ-based applications using containers via Kubernetes," Dillingham said. "This is a key opportunity for IBM in bridging from leading provider for traditional enterprise applications to leading provider for cloud-modernized and cloud-native applications on its IBM Cloud Private and IBM Public Cloud offerings."
Sticking to its knitting
So, with IBM Cloud Private, IBM is sticking to its knitting while helping to advance its enterprise customers with modern development tools.
"IBM Cloud Private extends the value of customers' existing IBM investments rather than being a new, on-premises cloud platform, like Microsoft's Azure Stack," said Charles King, principal analyst at Pund-IT.
The primary benefit of this offering is it enables enterprises to take advantage of the investments they've already made in existing systems, applications and data by bringing them into an elastic cloud platform.
"This will help accelerate application development, more easily expose these applications to new public cloud services and even provide the option of moving applications to the public cloud," said Michael Elder, distinguished engineer for the IBM Cloud Private platform. "We also think it sets an enterprise up with a powerful new tool for workload portability from their datacenter to the public cloud."
The platform provides tools to help bootstrap new applications into containers and enable existing applications for the cloud, he noted.
"We also build IBM Microservice Builder into the platform, which offers preconfigured Jenkins CI service build container images and publishes them to the built-in image registry right out of the box," Elder said.
The system also includes other management and security features, such as multi-cloud management automation, a security vulnerability advisor, data encryption and privileged access, and more.
Moreover, IBM Cloud Private supports Intel-based hardware from Cisco, Dell EMC, Lenovo and NetApp, and it can be deployed via VMware, Canonical and other OpenStack distributions.