News
Stay informed about the latest enterprise technology news and product updates.
Salesforce CEO Benioff responds to burning questions at Dreamforce
Salesforce.com CEO Marc Benioff spoke to an audience for 3 hours at Dreamforce. Then the audience got to ask questions.
SAN FRANCISCO -- Salesforce.com leader Marc Benioff spoke to an audience for about three hours during his keynote address at the company's annual Dreamforce user conference. Later in the day, he responded to an hour's worth of attendees' questions -- some stranger than others.

Download this free guide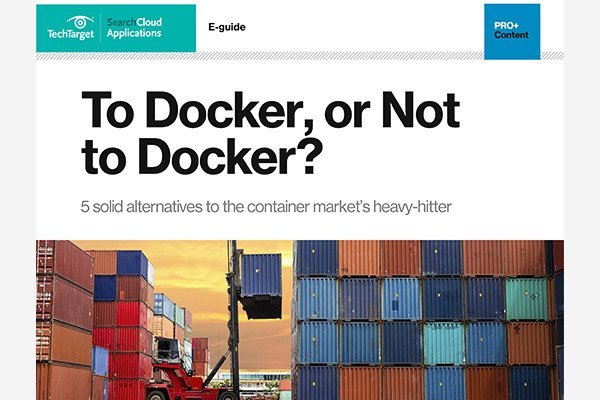 Instant Download: 5 Solid Alternatives to Docker
In this guide, 20-year software development expert Mark Betz outlines 5 alternatives to Docker, complete with hands-on advice.
Benioff gave a joking response to a French reporter who asked if the CEO would like to meet France's new president, Francois Hollande. Benioff suggested they get a bite at the burger joint across the street. He also told reporters it was unfair to judge Facebook on its initial public offering (IPO), explained his choice to wear sneakers during the keynote, and even admitted that he didn't know the answer to a few questions.
While some queries were humorous in nature, most were focused on the events at Dreamforce, the direction of Salesforce as a business, and the tough competition Salesforce faces from its rivals. Here is a recap of Benioff's comments on a variety of topics:
On Salesforce's move into marketing
One of the first questions at the session was about Salesforce's move into marketing with the release of its Marketing Cloud product. The questioner recalled statements Benioff made at previous Dreamforce gatherings about how Salesforce was just a CRM and sales company. Benioff countered that marketing is what customers want and, despite it not being an initial goal, there was simply too much opportunity to pass up.
"Our two big bets are Radian6 and Buddy Media together as the Marketing Cloud," he said, adding that he thinks Marketing Cloud "can become a billion-dollar product line."
On Salesforce as the "Facebook of the enterprise"
The Salesforce/Facebook comparison has been made before, and the idea was posed by several questioners throughout the session. Benioff didn't shy from the comparison, adding that the company uses that idea in its own messaging. He predicted that one day, all software will use a feed-based platform because "that's what people are trained to do."
"We're not going to be the only ones, but we have to be one of them," he said. "We like being the vision, we like being right and being out there four or five years [ahead]."
On the Salesforce Touch news
One of the announcements made during the keynote was about the Salesforce Touch platform and how HTML5 allows Salesforce apps, old and new, to be dynamic across devices.
"The way that I look at big platform movements like this is that they are a continuum," he said. "By no means is that product done or will it ever be done, because it's our next generation platform."
On his competitors
The idea of competition didn't bother Benioff, stating that, "I've always viewed competition as very healthy and good." But he did have a few pointed words for his competitors.
The question was phrased in terms of the social acquisitions that have happened at various companies -- Microsoft buying Yammer, Oracle purchasing RightNow, SAP's numerous acquisitions -- and if he thought competitors were gaining on him. Perhaps not surprisingly, he didn't.
"I think the competition in many cases does not move fast enough and you can see how they even resist multi-tenancy and shared systems and all these things," he said. "I think it's a disservice to themselves and this whole industry."
On cloud and emerging markets
A reporter from Forbes Brasil asked Benioff if he thought that emerging economies were better suited for the cloud since, in many cases, they had not spent much on legacy hardware or other on-premises systems.
"The number one thing is the network. [In] countries like Brazil, next generation businesses will transform their business by how they structure their corporate networks and how they deliver those services to users," he said. "It's a very exciting time to be new, it's a hard time to bring your legacy forward."
Adam Riglian is a news writer with SearchCloudApplications.com. Follow him on Twitter @AdamRiglian.
Dig Deeper on Cloud application architectures and platforms