Evaluate
Weigh the pros and cons of technologies, products and projects you are considering.
Editors' Choice for Innovation: Archive2Anywhere email migration tool
The Archive2Anywhere legally compliant engine migrates legacy e-mail archives to local or cloud repositories while maintaining a clear chain of custody and ensuring data fidelity.
The editors at SearchCloudApplications regularly recognize cloud applications, platforms and services for their innovation and market impact. The Archive2Anywhere email migration tool, from New York-based Archive 360, is SearchCloudApplications' new Editors' Choice for Innovation.

Download this free guide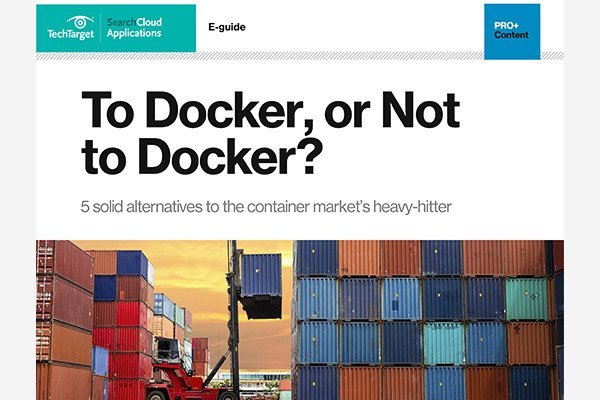 Instant Download: 5 Solid Alternatives to Docker
In this guide, 20-year software development expert Mark Betz outlines 5 alternatives to Docker, complete with hands-on advice.
Product: Archive2Anywhere
Vendor: Archive360
Release date: April 19, 2016 (2016 edition)
What it does
Archive2Anywhere is a server-based application designed to perform archive migrations with verifiable data fidelity and defensible chain-of-custody logging.
Built with a scalable, modular architecture, its design is based on a multithreaded, multiserver framework. Native extraction engines support Veritas, Autonomy, Mimosa, EMC, Dell and other databases, while ingestion engines support Microsoft Exchange MST and PST formats, Exchange archives, Office 365, Google Vault, and Open Standard EML/RFC-822. Capable of transferring more than 7 TB daily, Archive2Anywhere complies with Health Insurance Portability and Accountability Act, Sarbanes-Oxley Act, broker/dealer regulation, and Securities and Exchange Commission (SEC) Rule 17a-4 chain-of-custody and compliance mandates.
For Ray Henderson, systems administrator at Florida's Palm Beach County Water Utilities, a key capability was conversion of archives from NearPoint (formerly known as Mimosa NearPoint and acquired by Capax Discovery from Hewlett Packard Enterprise in 2014) back to the more-universal Microsoft Exchange format. "I'm pleased with the conversion from NearPoint back to Exchange," he said.
Why it's important
Archiving email -- and being able to retrieve it on demand -- is required in the eyes of the law. For how long your organization chooses to keep those messages and where you store them must be spelled out in clear retention and disposition policies that can satisfy the courts in the event of litigation.
Perhaps the best-known case involves Wall Street firm Morgan Stanley, which was sued in May 2006 by the SEC for failing to produce thousands of email messages during investigations spanning 2000 to 2005. The SEC alleged that Morgan Stanley failed to diligently search for back-up tapes and that it failed to produce email messages because back-up tapes had been overwritten. Morgan Stanley paid a $15 million civil penalty and agreed to implement retention policies and training.
Why it's cool
We have a very good picture of our archiving process. If it was necessary to quickly retrieve any email message, we could do that with no problem.

Ray Hendersonsystems administrator, Palm Beach County Water Utilities
With the Archive2Anywhere email migration tool, Palm Beach County Water Utilities was able to implement a definitive retention policy. "We had emails with information about construction of pipes and water infrastructure that should be kept for a long time," Henderson said. "A retention of seven years seems to be what we'll go with."
With the desire to move away from NearPoint, Henderson's team was able to pull all content from that archive and move it back into Exchange. "When Microsoft upgraded Exchange to allow for larger archives and better searching, that's where we needed to be." His team grew especially fond of the ability to automate the process and direct the results to local on-premises or cloud storage.
What a user says
Henderson said a key benefit of the Archive2Anywhere email migration tool was its breadth of reports and logs tallying activity and volume. "We have a very good picture of our archiving process. If it was necessary to quickly retrieve any email message, we could do that with no problem." With the prior archiving platform, Henderson said that while searching for and viewing specific email messages was easily accomplished, retrieving and printing them proved difficult. That impediment is now solved, he said.
The one glitch Henderson encountered was the occasional lack of adequate bandwidth for doing transfers, something he attributed to Palm Beach County and not his own team or the Archive2Anywhere email migration tool. "Watch your bandwidth; it was my fault for running at wrong times," he said. "We don't have control over the bandwidth; the county has control over that."

Just five months from retirement, Henderson said the decision to implement the Archive2Anywhere email migration tool and move away from NearPoint was made easy by the level of support he received from Archive360. Though he has never met the California-based support engineer face to face, Henderson was quick to heap praise. "He was easy to get along with and took the time to explain things that I didn't realize were going on. We're very pleased with the results and the ongoing support."
Pricing
The Archive2Anywhere email migration tool is licensed on a per-terabyte basis. Pricing starts at $7,500 and is scalable, depending on project size.
Joel Shore is news writer for TechTarget's Business Applications and Architecture Media Group. Write to him at jshore@techtarget.com or follow @JshoreTT on Twitter.
Dig Deeper on Cloud data integration and application integration