Get started
Bring yourself up to speed with our introductory content.
What developers need to know about cloud app integration
Cloud app integration issues continue to complicate software operations. This guide explores strategies, tools and trends that help connect all the moving parts in the cloud.
Introduction
While APIs have opened the door to cloud app integration, there is still a long road ahead to universal cloud standards. Proprietary interests have segmented the cloud into disparate parts and the responsibility falls to developers to connect them all into a unified application. That said, the cloud's advantages -- namely, easy data access, fast user experience, a reliable development environment and innovative deployment tools -- often outweigh the associated challenges.
This essential guide features articles that explain the fundamentals of cloud app integration. Some stories provide business strategies for tackling integration projects; others review tools and services that can help along the way.
1

Basics

-
The basics of cloud app integration
For cloud app integration newcomers, it's important to have a grasp of the fundamentals before diving into the planning phase. This section covers the basics, from the different types of cloud app integration to the integration challenges facing businesses today.
2

Tools

-
Tools and platforms to ease integration challenges
The following articles explore the different kinds of tools and platforms available to developers. Read on for important selection criteria and sound decision-making advice to help cut through vendor hype.

Download this free guide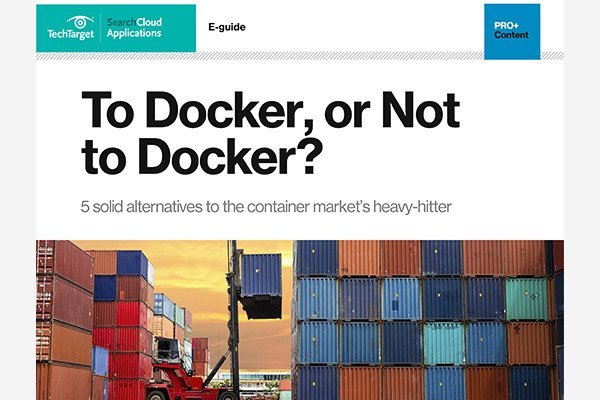 Instant Download: 5 Solid Alternatives to Docker
In this guide, 20-year software development expert Mark Betz outlines 5 alternatives to Docker, complete with hands-on advice.
By submitting your personal information, you agree that TechTarget and its partners may contact you regarding relevant content, products and special offers.
You also agree that your personal information may be transferred and processed in the United States, and that you have read and agree to the Terms of Use and the Privacy Policy.
3

Strategy

-
Strategizing for a cloud app integration project
A successful cloud app integration project requires more than just good tools. The following articles help businesses implement an efficient workflow and keep up to date on the latest integration trends.
4

iPaaS

-
When, how and why to use iPaaS
IPaaS is gaining traction in the enterprise as a means of integrating data, processes and application components. However, lack of trust concerning iPaaS's security still discourages some from adopting the service. The following tips list the pros and con of iPaaS and can help determine who is a fit for this up-and-coming middleware.
News
Gartner's Pezzini sees good uses of the iPaaS, or integration Platform as a Service. Users say data and security issues may be obstacles. Continue Reading
Tip
Learn how to determine if iPaaS integration works for your business needs. Continue Reading
Answer
IPaaS is gaining traction with cloud services and enterprise app integration. Ovum IT's Saurabh Sharma shares iPaaS best practices. Continue Reading
5

Definitions

-
Terms to know in cloud app integration