justinkendra - Fotolia
Q
Manage
Learn to apply best practices and optimize your operations.
What development skills are needed for working on cloud apps?
Are there new skills developers need to work with cloud applications that on-premises applications didn't require? Read this expert answer to find out what development skills are new.
Development skills have certainly changed with the introduction of cloud applications. The biggest thing developers have a hard time with in cloud-based applications is "failure as a feature," which means failure will occur when you have a cloud-based application but it will not bring all functionality to a halt. The idea that you have one server, and it is your pet, and when it gets sick you fix it, is obsolete in the cloud world. In the cloud, servers are cattle, and when one gets sick, you put it down.

Download this free guide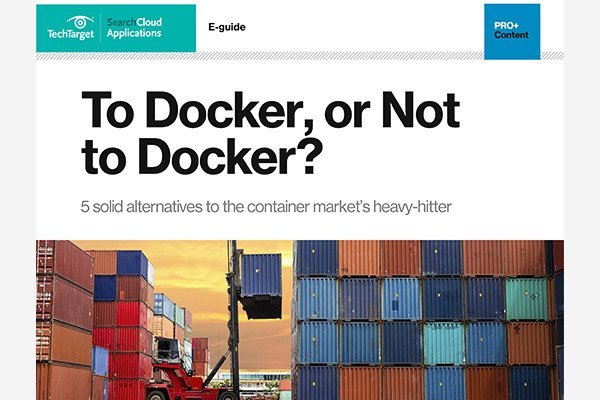 Instant Download: 5 Solid Alternatives to Docker
In this guide, 20-year software development expert Mark Betz outlines 5 alternatives to Docker, complete with hands-on advice.
On-premises developers also have challenges with firewalls and Internet-connected servers. Latency across the Internet is always higher than across LANs, and certain things that may be very fast when you're accessing locally may be slow in the cloud. This is due to network requests. Additionally, traditional on-premises applications often rely on firewalls to restrict access. Although you can restrict access in the cloud, it's often less desirable because people assume that if their application is "in the cloud" they can access it from anywhere. The typical office is not where all business happens anymore. With cloud computing, you'll want to secure your applications through means other than firewalls; for example, through such things as federated logins and Secure Sockets Layer connections.
This does, however, make you a larger target for attackers. Instead of worrying just about Sam down the hall typing in something you didn't expect that crashes the system, you'll have to worry about attackers from all over the world trying to gain access to your system. It's never a bad idea to explicitly block IP address ranges if you're experiencing a high volume of attacks, but you'll also have to be ready to fend off any new invaders as they pop up. Be sure your system is secure, and test it regularly.
Dig Deeper on Cloud access management and application security
Event-driven computing means no IaaS provisioning and no data center to run. Can I migrate all enterprise apps to be event-driven? Continue Reading
What is runtime as a service and how does it differ from platform as a service and infrastructure as a service? Continue Reading
The DevOps model is taking off as cloud adoption grows. But what exactly are the key responsibilities of a DevOps team in the enterprise? Continue Reading
Have a question for an expert?
Please add a title for your question
Get answers from a TechTarget expert on whatever's puzzling you.