Q
Cloud computing trend alert: Expect growing focus on enterprises
In this expert answer, contributor Chris Moyer looks at a key cloud computing trend -- enterprise migration -- and touches on other cloud trends as well.
What are the biggest cloud computing trends that businesses should keep an eye on in 2014?
In one major cloud computing trend, Amazon Web Services and others have been working more on building services than on expanding traditional infrastructure.

Download this free guide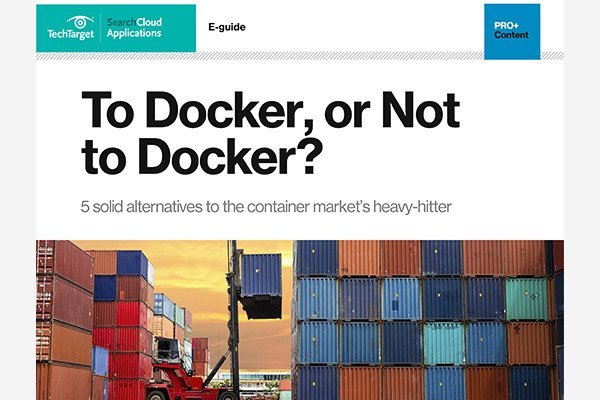 Instant Download: 5 Solid Alternatives to Docker
In this guide, 20-year software development expert Mark Betz outlines 5 alternatives to Docker, complete with hands-on advice.
By submitting your personal information, you agree that TechTarget and its partners may contact you regarding relevant content, products and special offers.
You also agree that your personal information may be transferred and processed in the United States, and that you have read and agree to the Terms of Use and the Privacy Policy.
Now the question is how to get traditional enterprises to switch to the cloud – which is easier said than done.
Specifically, they have been building more platform services. These services are seeing increased usage both in new businesses and in existing companies with traditional data centers that are looking to move services to the cloud.
A closely related cloud computing trend is a growing focus on enterprises -- that is, helping big companies move their costly data centers to cloud-hosted platforms. Cloud computing already makes sense for startup businesses that are dealing with limited funding, so now the question is how to get traditional enterprises to make the switch -- which is easier said than done. When you're dealing with enterprises that already run their own long-established data centers, it can be tough to sell them on moving their existing working systems to the cloud.
Still, there was a clear focus on providing support for enterprise-level cloud use at the end of 2013, and this particular cloud computing trend should continue, and perhaps increase, in the coming year.
In addition, you can expect to see more cloud-based features and offerings in 2014. These might include hosted versions of Microsoft's Exchange and Active Directory, or even of entire infrastructures, along with improvements to the Desktop as a Service platforms that made their debut at the end of 2013.
Event-driven computing means no IaaS provisioning and no data center to run. Can I migrate all enterprise apps to be event-driven? Continue Reading
What is runtime as a service and how does it differ from platform as a service and infrastructure as a service? Continue Reading
The DevOps model is taking off as cloud adoption grows. But what exactly are the key responsibilities of a DevOps team in the enterprise? Continue Reading
Have a question for an expert?
Please add a title for your question
Get answers from a TechTarget expert on whatever's puzzling you.