Q
Build an in-house enterprise app store without breaking the budget
Contributor Chris Moyer discusses ways to launch an online enterprise app store to help meet mobile employees' needs.
My company wants to establish an enterprise app store for our employees, primarily providing mobile apps for bring your own device (BYOD) use. I want to make the enterprise app store as useful as possible for employees -- but, frankly, without spending a lot of IT resources on building and maintaining it. Any advice?

Download this free guide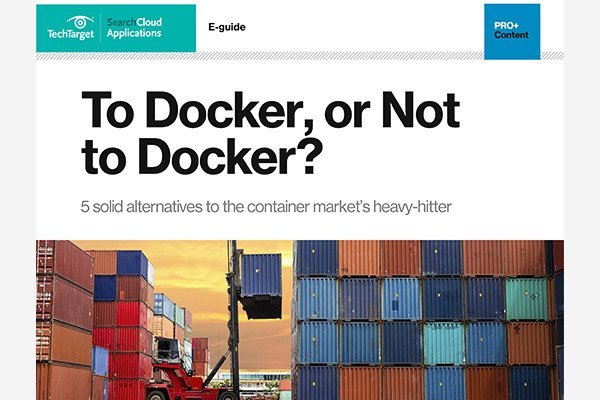 Instant Download: 5 Solid Alternatives to Docker
In this guide, 20-year software development expert Mark Betz outlines 5 alternatives to Docker, complete with hands-on advice.
Building your own app store can be a lot of work, and it can be very tricky to get everything right, especially across different platforms such as iOS, Android and Windows Phone.
Fortunately, many providers can now eliminate the hardest parts of creating an enterprise app store, allowing you to simply upload and manage applications automatically -- and manage devices as well.
Many providers can now eliminate the hardest parts of creating an in-house app store.
The one we've used significantly is HockeyApp. This system not only allows you to manage an online enterprise app store, but it also handles updates and crash reports. In addition, it lets you track who downloads what data onto which devices and allows you to set up user accounts -- all of which make it a great tool for building your own enterprise app store.
The company has mobile versions of its website and a Web app (or in Apple's case, a "Web clip") that can be installed on mobile devices.
The system supports all the major mobile platforms and the company has a great track record of listening to its community. You won't have to worry about distributing the provisioning profiles separately; they operate just like a regular mobile app store.
Another option is TestFlight. This system only focuses on distributing applications but has been very popular as one of the first systems to support ad hoc over-the-air distribution of iOS apps. The system supports Android as well as iOS, but not Windows Phone. It also doesn't have the built-in crash-reporting software that HockeyApp offers.
In terms of the actual building of applications, only iOS requires you to have a special account to distribute applications outside the commercial app store. You can sign up for an Apple enterprise developer account, which lets you build apps for distribution in-house without requiring users to register their devices every time they change one and forcing you to make a new build. That allows you to distribute your applications to anyone with access to your in-house app store.
Event-driven computing means no IaaS provisioning and no data center to run. Can I migrate all enterprise apps to be event-driven? Continue Reading
What is runtime as a service and how does it differ from platform as a service and infrastructure as a service? Continue Reading
The DevOps model is taking off as cloud adoption grows. But what exactly are the key responsibilities of a DevOps team in the enterprise? Continue Reading
Have a question for an expert?
Please add a title for your question
Get answers from a TechTarget expert on whatever's puzzling you.