News
Stay informed about the latest enterprise technology news and product updates.
Gartner Catalyst Conference 2013: Insights, highlights, tips
This article provides a quick roundup of expert commentary from the 2013 Gartner Catalyst Conference, 'Harness the Power of IT Convergence.'
"Convergence" was the word of the day at the 2013 Gartner Catalyst Conference.
Business and IT professionals from around the world attended the recent four-day event in San Diego, which focused on the confluence of mobile, cloud computing, big data and social collaboration technologies.

Download this free guide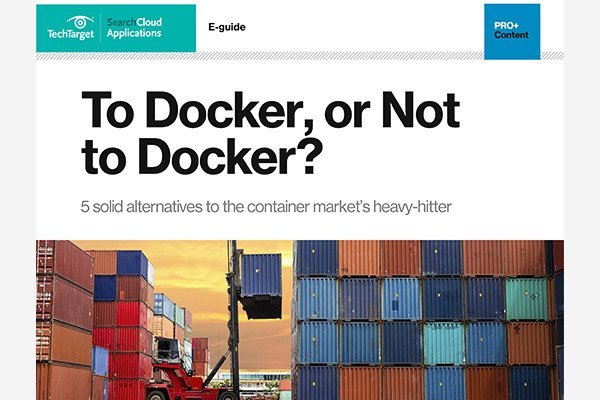 Instant Download: 5 Solid Alternatives to Docker
In this guide, 20-year software development expert Mark Betz outlines 5 alternatives to Docker, complete with hands-on advice.
By submitting your personal information, you agree that TechTarget and its partners may contact you regarding relevant content, products and special offers.
You also agree that your personal information may be transferred and processed in the United States, and that you have read and agree to the Terms of Use and the Privacy Policy.
Following are just a few of the insights that analysts and other speakers shared during the Gartner Catalyst event:
On shadow IT: "Embrace shadow IT. Shadow IT is a gift. It's the business telling you what they want." -- Drue Reeves, Gartner vice president and distinguished analyst
On creating agility: "Automate the routine. Orchestrate the complex." -- Drue Reeves
On business-IT relationships: "Be the broker. Become a trusted advisor. Arbitrate and facilitate. Evaluate which services to use -- and not to use. Seek out and commission new services. … Take these services and add value to give the business exactly what they want. Otherwise, they will go find something else." -- Drue Reeves
On CIO attitudes: "Seventy-six percent of the CIOs we polled believe we are not using technology to its full potential. We have to look at technology differently." -- Drue Reeves, commenting on a January 2013 report based on a survey of more than 2,000 CIOs
On presidential campaign technology: "In 2008, our technology was basically bubble gum and bailing wire. In 2012, we were the enterprise. … Everything we did was metrics-driven." -- Harper Reed, former chief technology officer, Obama for America 2012 campaign
On cloud vs. on-premises environments: "Who here uses physical services? Keep your hands up, because you're losing money." -- Harper Reed
On bring your own device (BYOD) support: "BYOD does not mean 'bring everything.' You do not support Angry Birds. You don't support a 'my favorite recipe' program." -- Michael Disabato, Gartner vice president
On BYOD data breaches: "It's the stuff that gets you on the front page of The Wall Street Journal -- and not in a good way." -- Michael Disabato
On privacy in the public cloud: "Security and privacy are not the same thing. … Privacy is often an afterthought. If you address privacy up front, you will save yourself risk issues and heartache in the long run." -- Heidi L. Wachs, Gartner director and attorney
On reliability of the public cloud: "There are companies betting their entire businesses that public cloud works for them. I see mission-critical applications in the [public] cloud every day." -- Ed Laczynski, vice president of cloud strategy and architecture at Datapipe.
On cloud security: "Security is never implied. Security has to be built and architected. How much do you trust that a multi-tenant environment is secure?" -- Mayuresh Shintre, cloud platform architect and engineer, Target Corp.
Experiment. That's what the cloud is great for.

Ramon Krikkenvice president, Gartner Inc.
On evaluating cloud service providers: "Don't think of having a single CSP. [Instead], see how it fits in a hybrid IT and multiprovider solution. … Often, using a multiprovider solution means that you spread the risk for whatever it is you're looking at across all those providers." -- Ramon Krikken, Gartner vice president
On negotiating with CSPs: "You're going to want to know your deal-breakers before entering negotiations. … Of course, you want to develop an exit strategy." -- Heidi L. Wachs
On setting cloud security requirements: "You don't want to have gold-plated requirements all over the place, because you're just never going to get them." -- Ramon Krikken
On Netflix and the cloud: "Three years ago, these guys were running almost all on-premises. Now they're running almost all on cloud." -- Ariel Kelman, director of worldwide marketing, Amazon Web Services (AWS)
On the growth of AWS: "More than 280 new AWS services and features have been launched since January 2012". -- Ariel Kelman
On cloud chaos: "Cloud brings chaos, and we need to start embracing it rather than just finding new ways to control it." -- Chris Wolf, Gartner vice president (in a tweet from the Gartner Catalyst event)
On cloud benefits: "Experiment. That's what the cloud is great for." -- Ramon Krikken
Dig Deeper on Mobile cloud computing application strategy
PRO+
Content
Find more PRO+ content and other member only offers, here.