News
Stay informed about the latest enterprise technology news and product updates.
Application bundling becoming a force on Salesforce App Exchange
FinancialForce.com will bring more bundled services to the Salesforce App Exchange through a partnership with Jobscience and AccountAbility.
This Article Covers
RELATED TOPICS
Looking for something else?
PRODUCTS
A pair of partnerships announced Monday by FinancialForce.com will bring more bundled services to the Salesforce App Exchange.
FinancialForce.com is creating partnerships with Jobscience and AccountAbility Solutions Inc. to create broader options for enterprises looking for a variety of add-on services for Salesforce.com users.

Download this free guide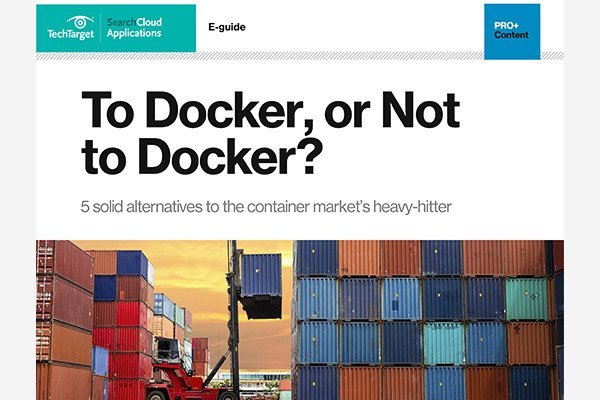 Instant Download: 5 Solid Alternatives to Docker
In this guide, 20-year software development expert Mark Betz outlines 5 alternatives to Docker, complete with hands-on advice.
By submitting your personal information, you agree that TechTarget and its partners may contact you regarding relevant content, products and special offers.
You also agree that your personal information may be transferred and processed in the United States, and that you have read and agree to the Terms of Use and the Privacy Policy.
FinancialForce is the creator of accounting, billing and other financial applications that are built to run entirely within Salesforce CRM. The company, which also focusses on professional services automation and resource planning, said it formed an alliance with Jobscience and AccountAbility -- the providers of two native Force.com apps -- to satisfy a growing deluge of user requests.
"In both cases, it's through customers, that's the way it has happened," said Tom Brennan, vice president of marketing at San Francisco-based FinancialForce. "Sometimes they'll ask us, 'Do you have an app for recruiting,' or 'Do you have an app for fixed assets?'"
Jobscience is a social relationship management app that helps staffing and professional services firms recruit talent. AccountAbility is a fixed asset management tool. Customers interested in the joint services still pay for the applications separately, but cooperation on the back end, as well as the fact that the apps were built on Saleforce's Force.com development platform, should enable smooth integration, according to Brennan. He added that in the future, the apps could be sold as a bundle under a different name, but said that isn't an immediate priority.
What we're seeing is clusters of applications starting to work with [Salesforce] about being integrated together.

Mike Rosenbaumsenior vice president, Salesforce.com
"Our [customer] contract is very similar to Salesforce's and I'm sure the other partners' [contracts] are [as well]," Brennan said. "We try to minimize what that looks like so it's not difficult on the customer."
The deal was put together by Eric Moreau, who recently left SAP to join FinancialForce in the role of partner success manager. Salesforce Senior Vice President Mike Rosenbaum has also emphasized the role of bundled services in the Salesforce App Exchange.
"To me it's a pretty exciting trend. It's just two announcements, but we've been doing this quite a bit and we've got a few more coming," Brennan said. "It's a new way to do business apps that's refreshing from the old way of doing it."
Rosenbaum sees more of this sort of bundling happening in the future. He predicted it could take the form of independent ISVs working together and forming partnerships.
"What we're seeing is clusters of applications starting to work with [Salesforce] about being integrated together," he said. "By the time we get to Dreamforce, you're going to see some announcements from groups of partners over what we're calling bundles, groups of apps that are pre-integrated together."
Ultimately, Rosenbaum sees the App Exchange as bringing to the enterprise what Apple has brought to consumers. He sees a future in the app store where "every single ISV will build a set of APIs that allow their application to be integrated to anything."
Integration isn't new to the App Exchange or to FinancialForce. In the first half of 2012, FinancialForce partnered with Scribe, Zuora, Rootstock and Baker Tilly. Others are planning to reveal new integrations at Salesforce's annual Dreamforce conference, which starts on Sept. 18.
Dig Deeper on SaaS application strategy
PRO+
Content
Find more PRO+ content and other member only offers, here.