Creating and maintaining a corporate app store: Strategies for success
Learn about the benefits and challenges of running an in-house corporate app store in this comprehensive collection of tips, expert answers and valuable terminology.
Introduction
It's no secret: Online application stores have become a huge part of the consumer IT economy. Now many businesses are considering building their own in-house stores to make approved applications available to their employees, partners and customers. In fact, by 2017, about 25 of all companies will deploy corporate app stores, according to a survey by research firm Gartner Inc.
But reaping the rewards of an in-house app store requires careful planning and constant maintenance. This guide offers expert advice for launching an in-house app store that works for business managers, IT teams and end users alike.
1

Planning your app store

-
Building a corporate application store
Is a corporate application store right for your organization? Read on to find out if an app store would be beneficial and then find out the steps you need to take from there. This section delves into the decision-making processes, deployment streamlining tips and budgeting ideas.
2

Maintaining app stores

-
App stores: Maintenance, users and corporate progress
Learn how corporations have maintained application stores in this section. App vendors and users share status updates on how the app stores have worked this far, how well users are fairing and what the future holds for corporate apps.

Download this free guide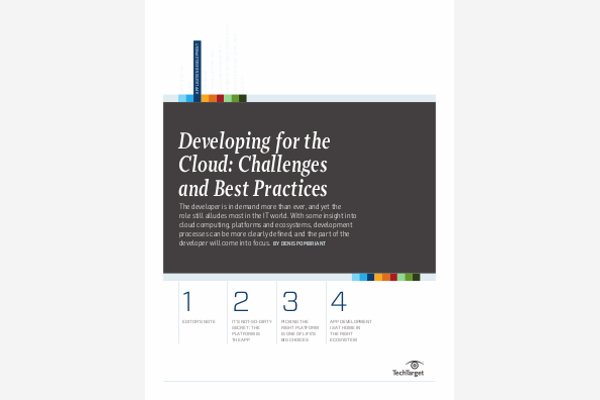 Developing for the Cloud: Challenges and Best Practices
IT analyst Denis Pombriant explains why platforms are on the rise and how to choose the right one. He also highlights the importance of having an ecosystem and puts a spotlight on issues in cloud development.
By submitting your email address, you agree to receive emails regarding relevant topic offers from TechTarget and its partners. You can withdraw your consent at any time. Contact TechTarget at 275 Grove Street, Newton, MA.
You also agree that your personal information may be transferred and processed in the United States, and that you have read and agree to the Terms of Use and the Privacy Policy.

3

Corporate app terms

-
About corporate app stores
Learn some common and not so common terms that revolve around corporate application stores. Find out about vendors and technologies in this glossary section.