Definition
iPaaS (integration platform as a service)
Integration platform as a service (iPaaS) is a set of cloud-based tools that enables software engineers to deploy, manage, govern and integrate applications and services. iPaaS is also referred to as cloud-based integration.

Download this free guide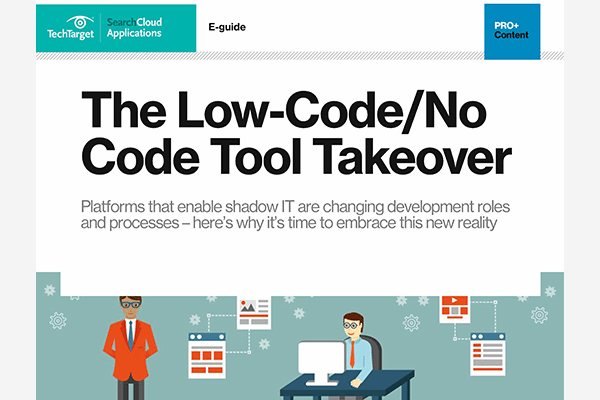 Free guide to low-code & no-code platforms
Platforms that enable shadow IT are changing development roles and processes. Here's why it's time to embrace this new reality.
By submitting your personal information, you agree that TechTarget and its partners may contact you regarding relevant content, products and special offers.
You also agree that your personal information may be transferred and processed in the United States, and that you have read and agree to the Terms of Use and the Privacy Policy.
iPaaS can connect multiple cloud-based applications together residing in either the cloud or on premises, allowing for the creation of a unique set of services. No two companies will likely require the same iPaaS tools, providing distinct needs and security necessities.
How does iPaaS work?
IPaaS architecture lets a development team focus on delivering software without having to build and support server environments at the same time. Typically, iPaaS vendors supply the server and data infrastructures, as well as middleware and other software tools for building, testing, deploying and managing software applications in the cloud. Most iPaaS offerings include maps and transformations to speed up the development of integration flows as well as prebuilt connectors and business rules for defining interactions. Often, iPaaS services are shared in a multi-tenant setup.
Integrated platforms as a service can be similar to a small home renovation. Want to update your kitchen, but don't know where to begin? Hire a contractor to manage the various moving parts, from where to place your new sink to how to fit in your existing refrigerator. More than likely you can mix and match products to suit your needs. In any event, the onus is on the contractor to get the job done.
The same can be said with iPaaS, in that the management and governance of the varied services is in the hands of the vendor.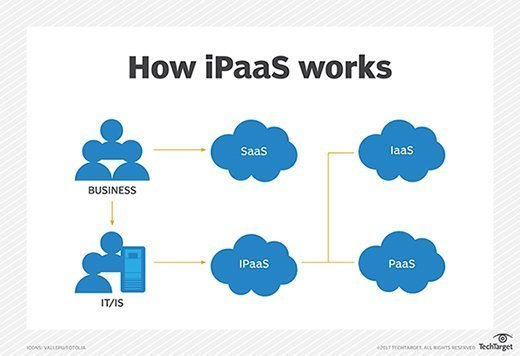 iPaaS benefits
At its best, iPaaS brings an organization's unique needs together into a cloud-based toolset. IPaaS is scalable and has the ability to meet the increased data volume from mobile and other environments. It supports real-time integration with the goal of minimum disruption, providing customers with an enhanced overall experience.
An iPaaS can simplify an organization's overall system. By creating a virtual platform, iPaaS connects applications and resources to create a consistent structure. The iPaaS framework creates seamless integration of resources across multiple clouds and between cloud and legacy applications.
All platform management can happen in one place, so planning and time to market are minimized. Ideally, iPaaS helps to navigate the growing integration requirements of a business without adding cost to an IT environment.
iPaaS vs. PaaS vs. SaaS
To understand how iPaaS compares to other service models, it is best to understand what each does.
Platform as a service (PaaS), refers to one cloud-based toolset that enables developers to govern services. PaaS focuses on one portion of a development project, rather than an entire infrastructure. This approach allows developers to change and upgrade operating systems, while still being collaborative and without disrupting an entire system.
As noted earlier, integration PaaS combines several platforms, utilizing the same benefits as PaaS at a broader scale.
Finally, software as a service (SaaS) uses a third-party provider to host applications over the internet. SaaS eliminates having to use an organization's own data center or computer, saving money, data storage and time. IPaaS tools can simplify hybrid SaaS deployments and work best with existing legacy systems of medium-to-low complexity.
iPaaS providers
IPaaS vendors not only work toward integrating enterprise systems within the cloud, but also between public and private clouds, all while keeping costs in mind.
There are two basic schools of vendors for iPaaS. First, there are the older, existing integration companies that have modified their tools to work with cloud services. TIBCO, Informatica and IBM are a few examples of companies that are using their experience and incorporating users' needs to create integration service platforms.
The second type of provider centers on companies that were born within the cloud age. Jitterbit, Dell Boomi, SnapLogic and MuleSoft are just some examples of companies that have found success based on and around cloud services.
iPaaS vs. ESB
IPaaS is often used in business-to-business (B2B) scenarios where speedy release times are a key requirement. The downside to this type of prepackaged integration product, however, is that it increases the threat of vendor lock-in.
Along that thought, there is debate over when to use iPaaS versus ESB (enterprise service bus).
Modern ESBs can handle SaaS applications, but also prove useful when integrating legacy, on-premises applications. On the other hand, iPaaS may be cheaper than ESB, offer more scalability and be advantageous for B2B integration outside an organization's own systems.
Next Steps
Enterprises can streamline application integration and gain support for a range of integration functions by using Boomi AtomSphere, Dell's iPaaS.
Continue Reading About iPaaS (integration platform as a service)
Dig Deeper on Cloud integration platform
PRO+
Content
Find more PRO+ content and other member only offers, here.