Definition
event-driven application
An event-driven application is a computer program that is written to respond to actions generated by the user or the system. In a computing context, an event is any identifiable occurrence that has significance for system hardware or software. As such, events include both user-generated actions like mouse clicks and keystrokes and system-generated events such as program loading.

Download this free guide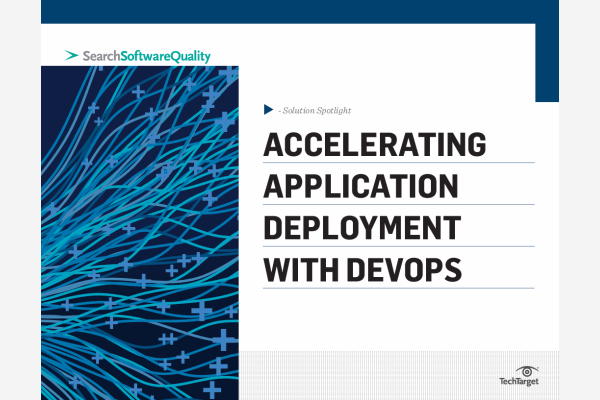 Download Our Guide to Agile DevOps
How can you speed deployment and boost ROI? It's not easier said than done. Learn the latest techniques allowing companies to eliminate barriers between development, testing and deployment.
By submitting your email address, you agree to receive emails regarding relevant topic offers from TechTarget and its partners. You can withdraw your consent at any time. Contact TechTarget at 275 Grove Street, Newton, MA.
You also agree that your personal information may be transferred and processed in the United States, and that you have read and agree to the Terms of Use and the Privacy Policy.

Event-driven programming separates event-processing logic from the rest of a program's code. The event-driven approach contrasts with batch processing. Because event-driven programming is an approach rather than a type of language, event-driven apps can be created in any programming language. Depending on the specific application, event-driven processing can improve responsiveness, throughput and flexibility.
In their book Event-Driven Processing in Action, authors Peter Niblett and Dr. Opher Etzion describe some purposes of event-driven applications:
Your application might be naturally centered on events. They involve some kind of sensor that detects and reports events and the purpose of the application is to analyze and react to these events.
Your application might need to identify and react to certain situations (either good or bad) as they occur. An event-driven approach, where changes in state are monitored as they happen lets an application respond in a much more timely fashion than a batch approach where the detection process runs only intermittently.
Your application might involve analysis of a large amount of data in order to provide some output to be delivered to a human user or some other application. By treating the input data as events you can use an event-driven approach to distribute this analysis across multiple computing nodes.
The event-driven approach can give you a way of extending an existing application in a flexible, non-invasive manner. Rather than changing the original application to add the extra function it's sometimes possible to instrument the original application by adding event producers to it (for example by processing the log files that it produces). The additional functionality can then be implemented by processing the events generated by these event producers.
See also: event-driven architecture, event handler, event forwarding
Continue Reading About event-driven application
Dig Deeper on Cloud application development and deployment
PRO+
Content
Find more PRO+ content and other member only offers, here.